We share what our house and small farm was like when we arrived, and how we have begun to reimagine the place and breathe new life into it for future generations. Take a walk behind the scenes and throughout the seasons.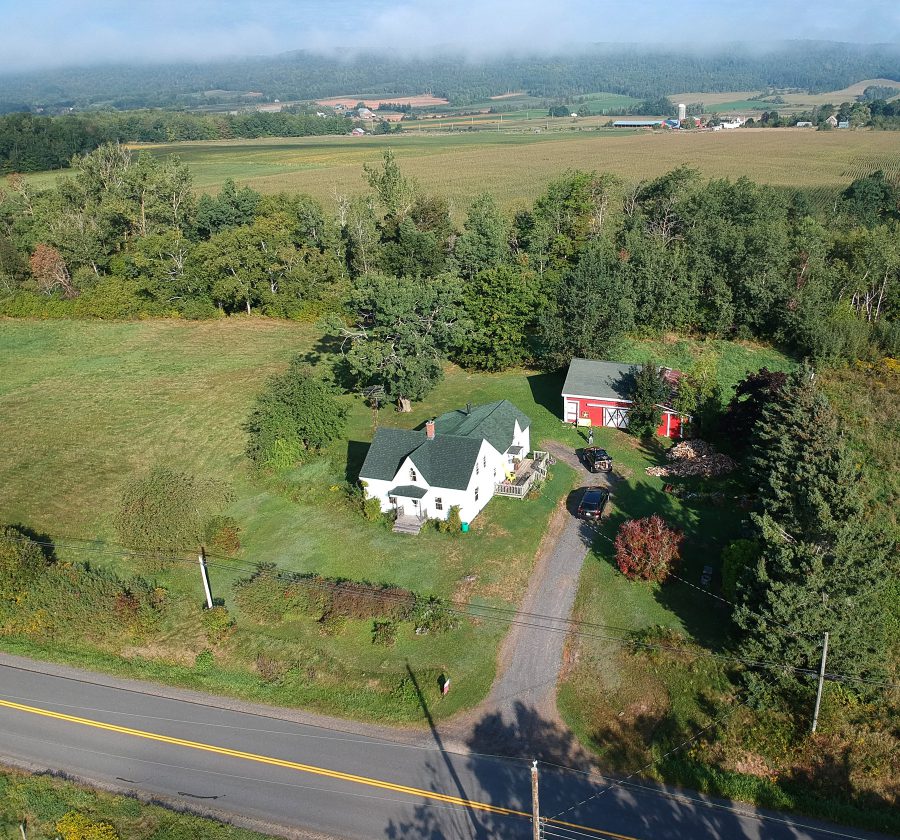 Stories to tell…
Our patch of land lies near the base of the North Mountain in the Annapolis Valley, Nova Scotia. The valley has a storied agricultural past and is famous for its many apple orchards. Crates of apples were once moved from local farms to the nearby town on the now defunct North Mountain Railway, which ran along the back of our property in what is now a narrow strip of overgrown woods.
In our very first season, we had one of the coldest and wettest springs in local memory, and Hurricane Dorion decided to rearrange many of our lanky, top-heavy poplars, concluding that they were best positioned on the ground. Our second season here was one of the hottest and driest on record – talk about extremes!
We have likened the whole experience to trying to turn a tanker ship around with all our might. We are finally beginning to feel that it is pointed in the right direction with its engine running, but it's not quite on its way, just yet. Despite all of this, there have been moments of pleasant surprise and of feeling very proud of what we've managed to accomplish.
An old house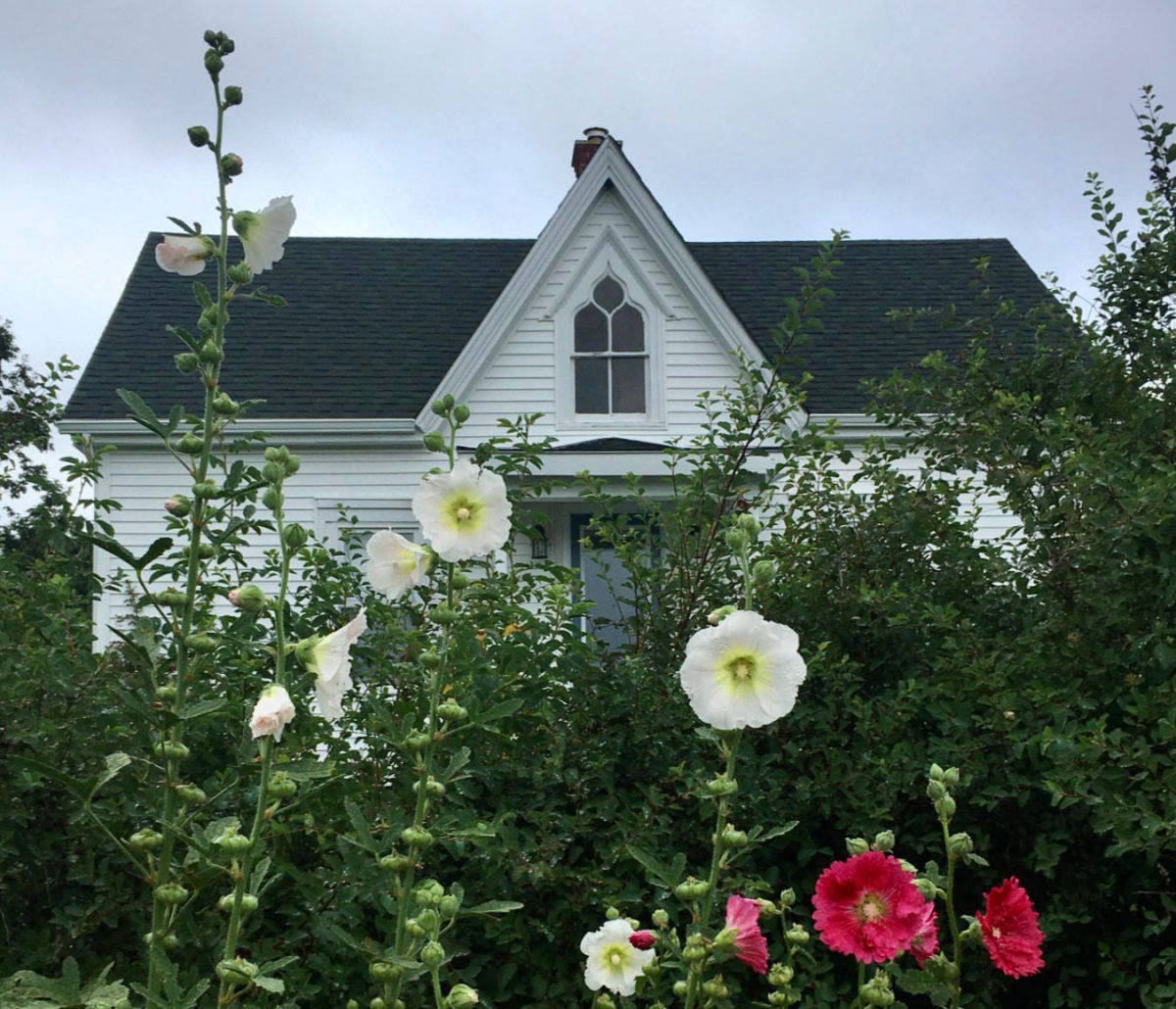 Based on the architectural details of our Gothic Revival farmhouse, we guessed that it had been built sometime between 1840-1890. As we uncovered original floors and worked to fix up the house, we found pieces of ancient birch bark siding, as well as roman numeral markings on the timbre beams indicating that the house was likely built from a pre-made kit.
The house had a number of long-standing and systems issues when we arrived that had to be discovered, demystified, and eventually resolved or repaired. It has been two years of an endless stream of firsts, of dirty and often unpleasant work or discoveries – not for the faint of heart!
Because it began as a working farmhouse, likely built by the original owners themselves – the Colemans – we expect only the sparsest of optional architectural elements were ever added. Over the years, many changes have been made and most of the original woodwork had been lost by the time we arrived. However, we did uncover the original tapered wide plank floors (underneath carpet, linoleum, plywood, and paper) covered up since 1910–1935, which we had refinished. We also discovered that our ultra-plain plywood bathroom door had an original single panel door underneath!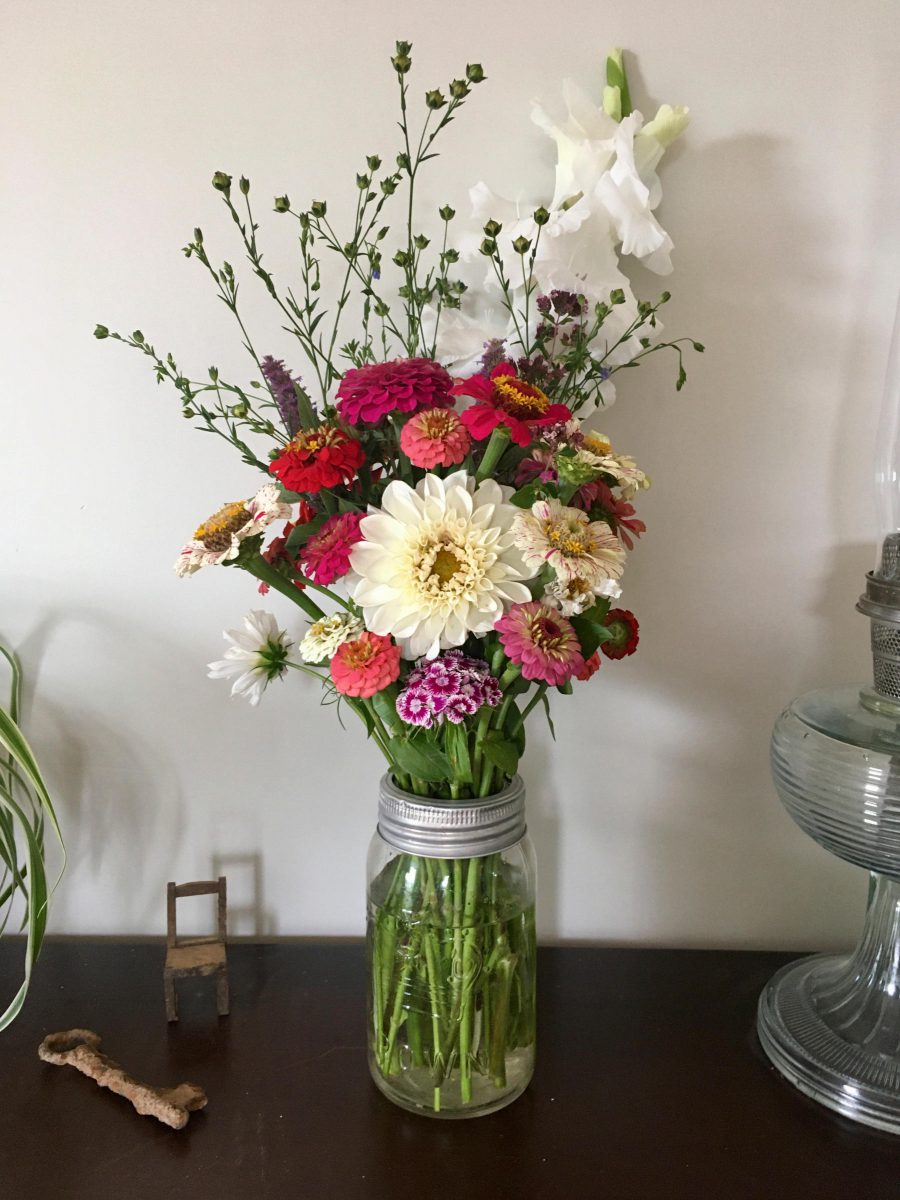 We've chosen to take the lack of original details (if there ever were many) as an opportunity to imagine and play with the various elements – we have scrounged old railing parts and even found a glorious newel post on Kijiji and are having a local carpenter reimagine our missing stairway railings. We hope this will create a blend of old and modern, artistic and functional, that is unique to us and to this house.
When cleaning up a tucked away corner behind the original plaster walls, we found a newspaper clipping dating the house fairly conclusively to 1877. How wonderful!
Our favourite discovery has been a little homemade wooden chair that must have belonged to a child's dollhouse.
Creating an ecosystem
The land had been unmanaged for many years and was very overgrown. A tangled hedgerow rambled along the field's edge completely swallowing the fence that used to border the field. Wild rose and raspberry brambles, thorny and unforgiving, quickly led us to buy leather gloves.
We spent quite a bit of time taking stock of what was here – where the winds came from, what areas were boggy, etc. We concluded that we had quite a challenging piece of land on our hands. There are about 2.5 acres of cleared, good quality but heavy clay, farmland with a roll and dip at the centre surrounded by a patchy tangled hedgerow along two sides and an overgrown woods at the rear. It was all very much in need of some love and care which gave us a sense of purposeful determination. We could not yet see exactly how it would evolve, but we were determined to make it healthy again.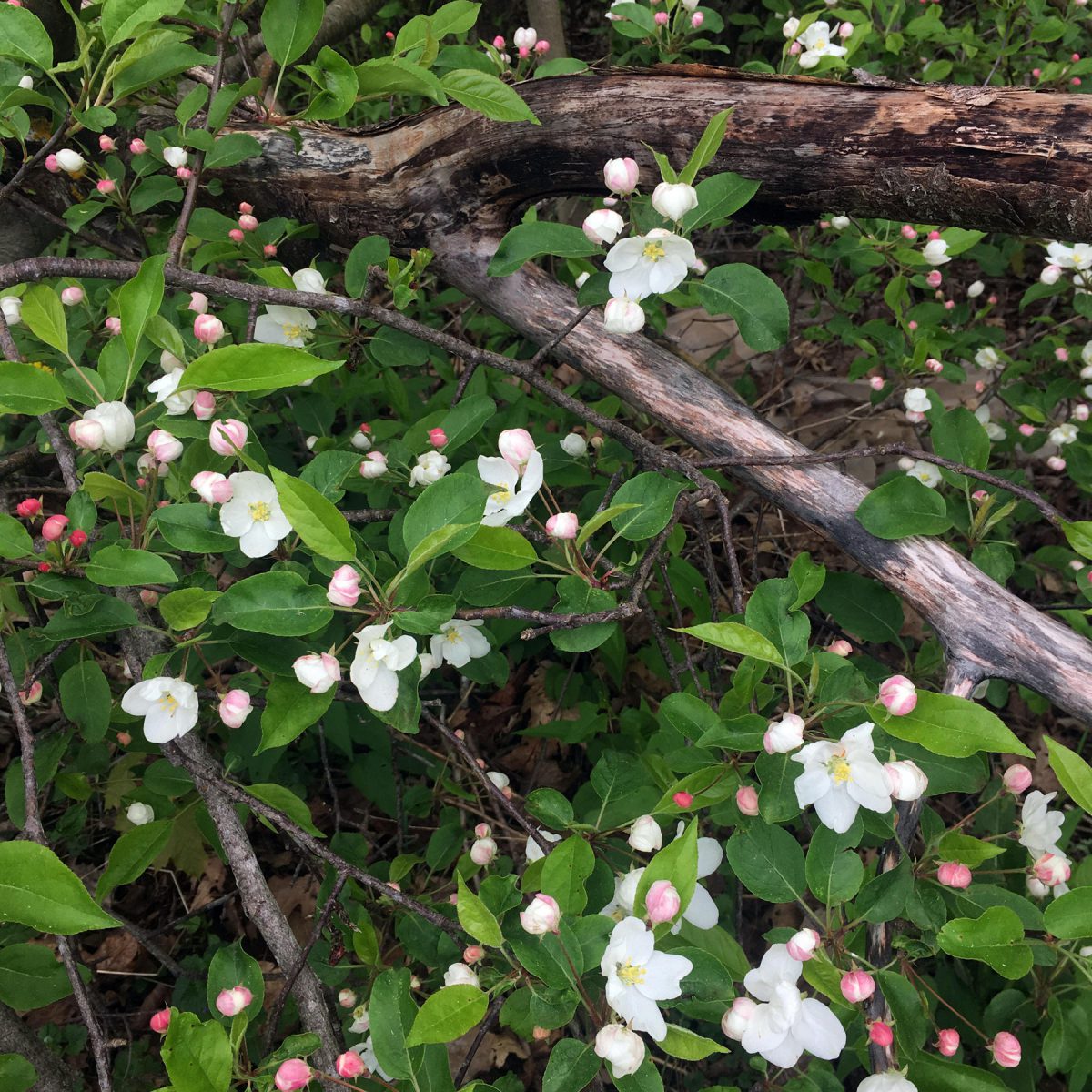 We began by identifying a few flat areas closest to the house and barn to turn into our initial crop fields. Then, we worked to thin the areas around the edge of the field – removing dead and diseased or overcrowded saplings and identifying succession species like oak, ash, maple that were already growing there. We also flagged many emptier areas for adding windbreaks, ornamentals, and year-round food for the birds.
The woods itself presented a further challenge. Once we made a pathway in, we discovered evidence that there had, in fact, been a long looping path there once before. As we cleared the length of this, it lead us to several deliberately planted trees along its route, and a dilapidated tree fort up on a ridge with a terrific view.
The ridge at the very back of our property runs along the cornfield behind and was once a rail bed. It used to be part of the North Mountain Rail line, used to transport apples from local farms to a warehouse in town. Little evidence of it remains, but it will become a wonderful windbreak for our woods and farm as we plant it with evergreens.
There is a sizeable gulley at the base of our woods, and it stays constantly boggy except in the height of summer, due to run off from the massive flat cornfields behind us. We mulled over these challenges for the first two years, poking our heads in and looking around as often throughout the course of the seasons as we could to try to understand what was happening in our woods, and why.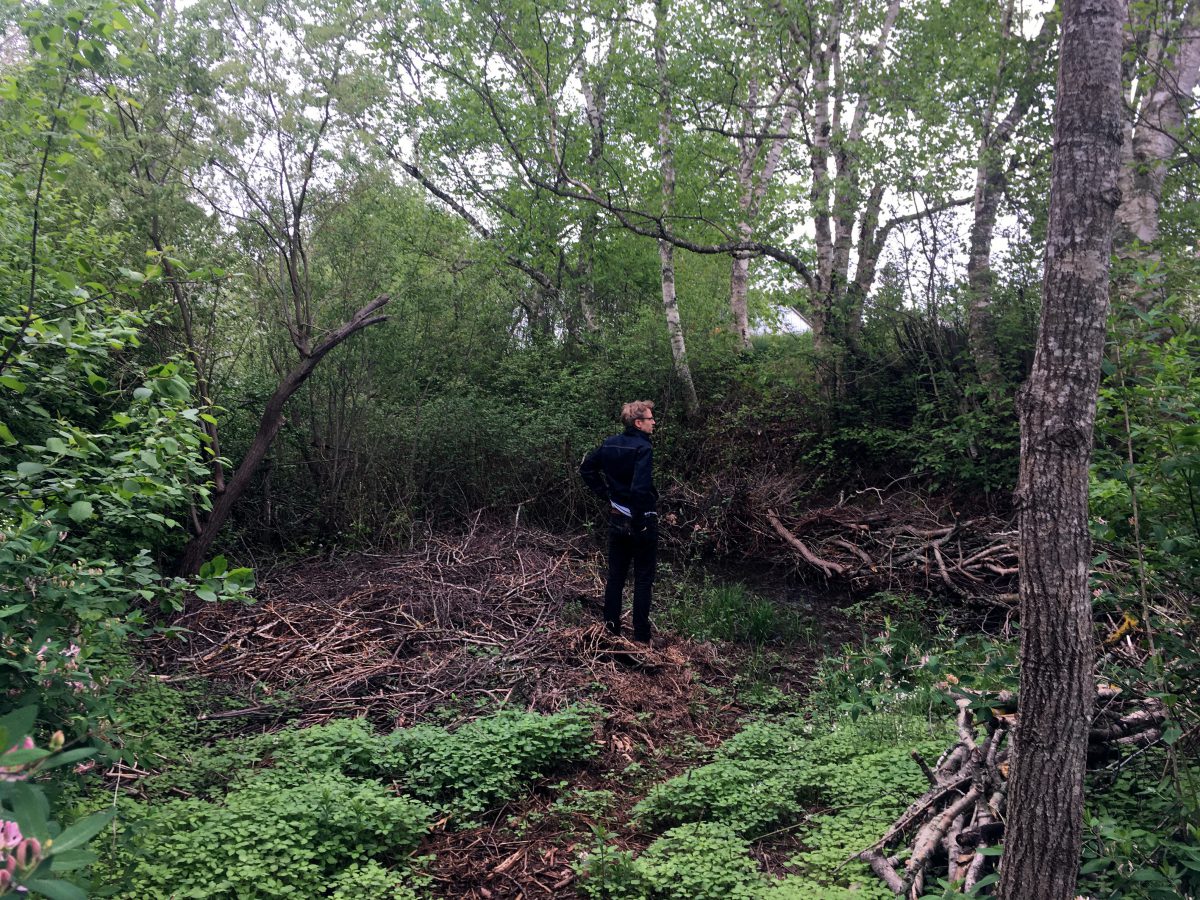 As we thinned and cleared the woods, we also discovered a sizeable heap of garbage that included several tractor chassis and old mattress springs. We dug all of these out, dragged them out, and have been slowly taking them to various disposal locations. We have been encouraging certain areas of the woods to become forest floor by adding plant matter, encouraging select trees, and planting many water-loving trees like willow, birch, and tamarack. We have also begun channelling the water into a creek to allow it to run along and off the property.
Our main goals for the woods have been to dry it out, thin the brambles, chokecherry, and poplar stands, and encourage succession tree species like birch, maple, ash, oak, and serviceberry. We've been piling our brush along the path edges and in areas we wish to encourage to become forest floor, as well as adding all of our crop field plant matter in the fall to continue building up the soil . Our hope is that it will become a healthy woods with trails accessible year-round, given a few more seasons of love, patience, and time to evolve.
A few glimpses behind-the-scenes…
Designing a farm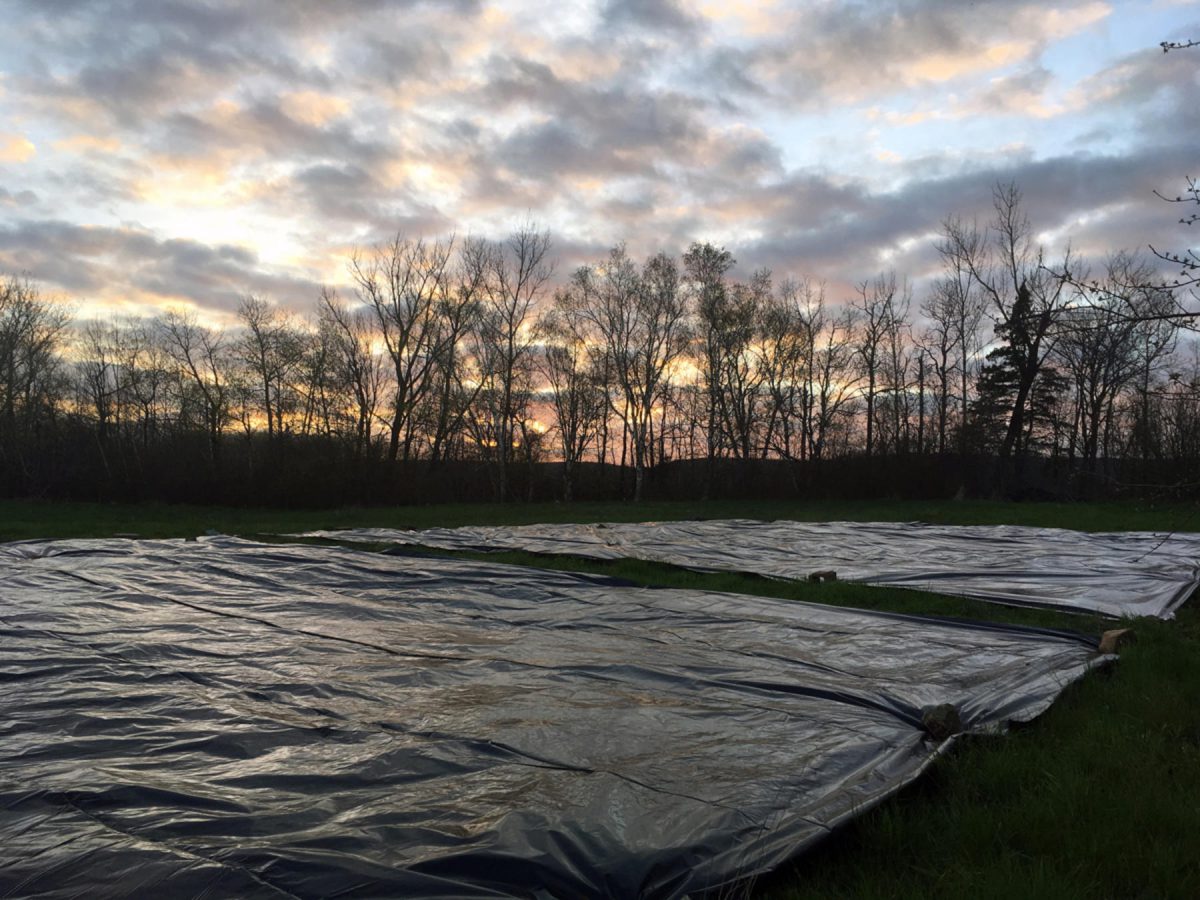 Our land was mostly cleared field when we arrived. Unused for many years and a hobby horse farm prior to that. We have found so few rocks while preparing our crop beds that we conclude it must have been farmed at some point in the past, though our neighbour who has lived here 52 years has never seen the land farmed.
We have begun thickening the hedgerow and adding windbreaks where they are needed. We have planned an access path to run the perimeter of the field. We don't have or use a tractor regularly, but we sometimes have someone come to till new beds or maintain the unused portions of our field which we leave as meadow during the summer months.
We build our beds by mowing the grass/weeds, then placing a heavyweight tarp over the area for several months. Our soil is heavy clay, so we then have it tilled once in order to be able to build it into raised beds by hand. Once we build the beds, we leave the soil as undisturbed as possible. We expand our farm a little bit at a time by adding a tarp or two worth of new bed area each season.
Overall, we have been following a permaculture design approach of observing and making incremental changes, observing again and making adjustments accordingly. We do have a low boggy spot that we've earmarked for a possible pond and a nice level area near to the main crop field for a future greenhouse.
The barn was largely unused when we arrived. We removed a dumpster load of old broken and rotted boards, doors, and other detritus from the house and barn, keeping anything we thought could be reused or repurposed. We have since been converting the various horse stalls into a chicken coop, potting shed, tool storage, workshop, and dye processing area. This year, we plan to replace many of the old or broken windows and give it a new coat of cheerful red paint.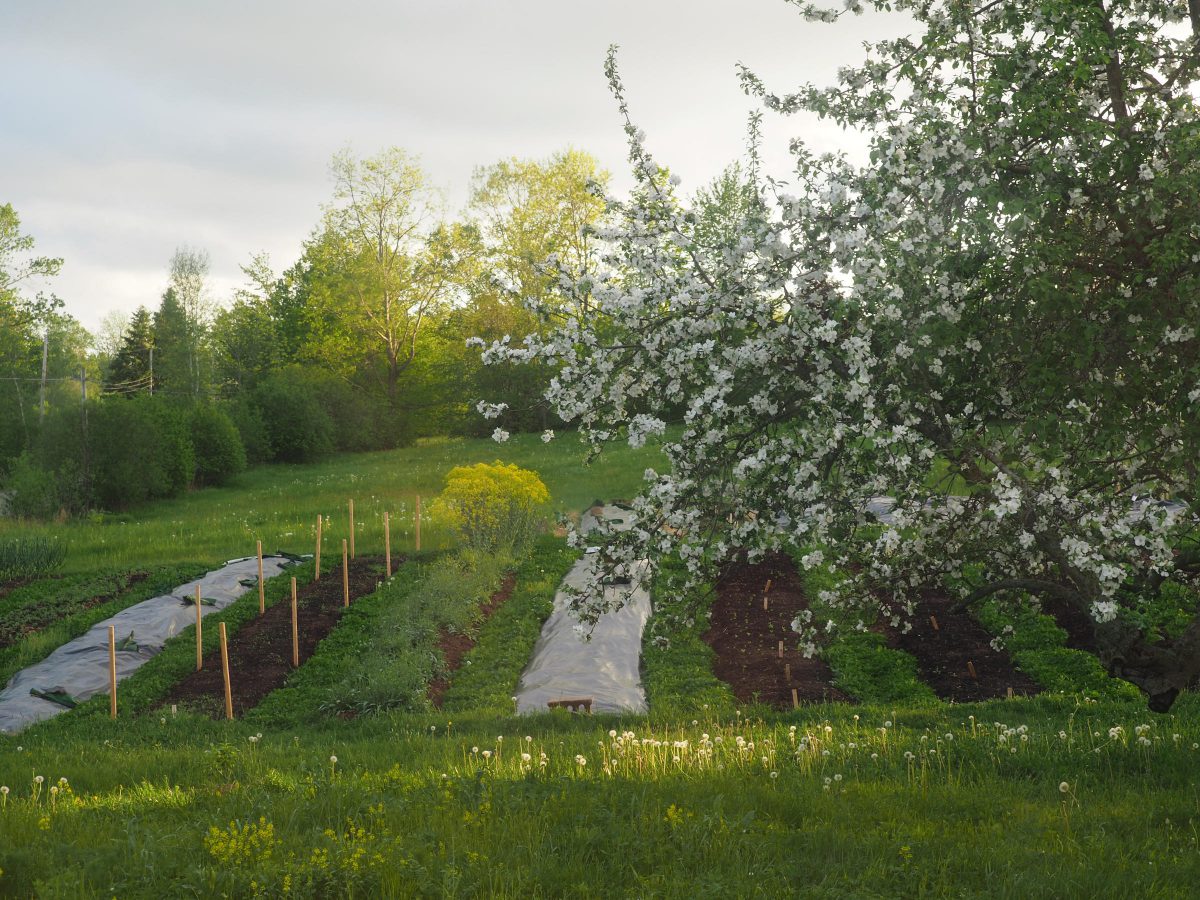 Surrounding ourselves with gardens
Each garden takes on its own personality—a mixture of what the gardeners choose to plant, the local climate, and the particulars of the region and land. We're excited to be turning a rough patch of farmland into a beautiful garden farm inspired by cottage gardens of old.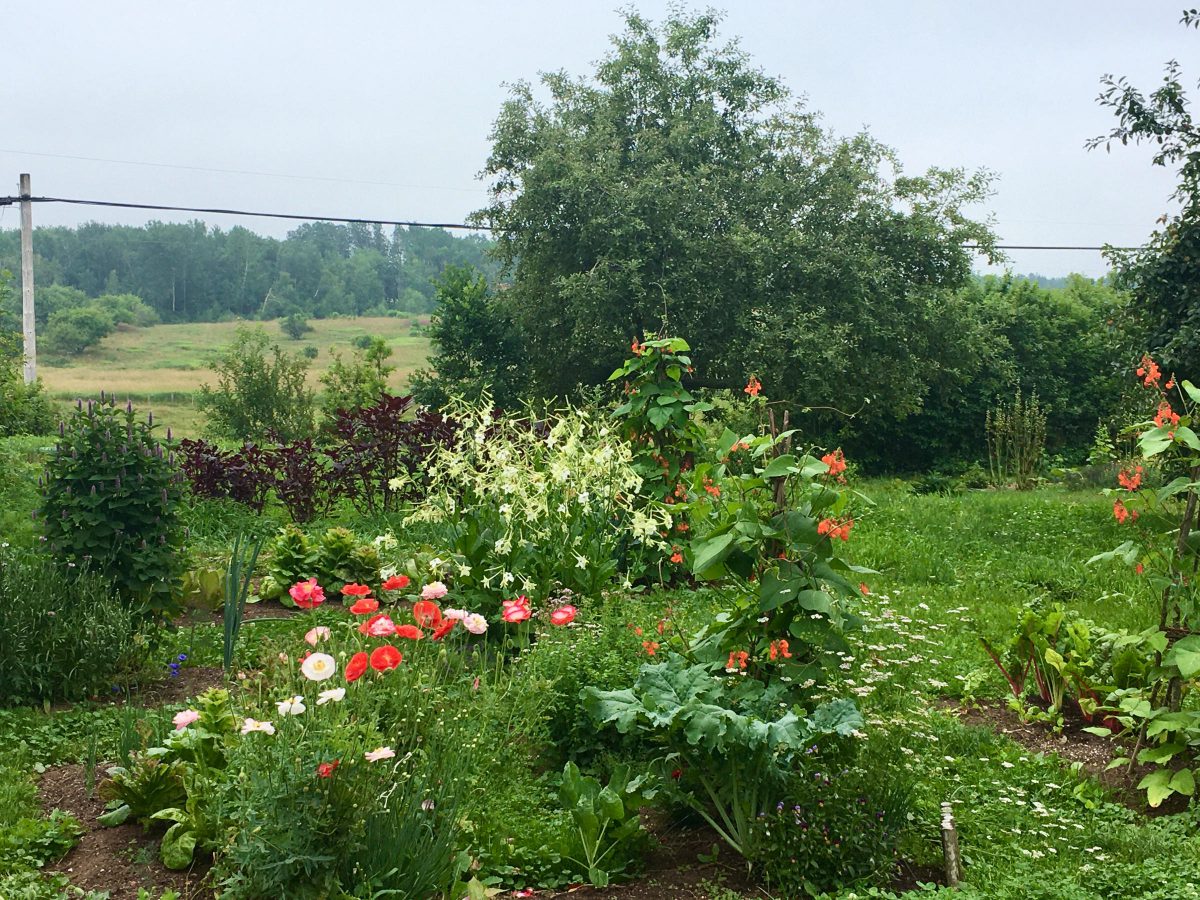 Taking our cues from the scale and personality of the house & land, we decided to plant a cottage-style garden around the house and barn. When we arrived, there were a few flowering shrubs, a trio of peonies, and some overgrown rose bushes around the house. We set to work cutting back the grass and weeds, pruning, and adding garden beds around some of these existing plantings. Each year, we add a few new beds or imagine a new area. In our first year, we added a kitchen garden next to the house filled with salad greens, herbs, and fresh eating items, as well as flowers to be seen from the house. The following year, we added a low-maintenance garden of long-flowering hardy shrubs, perennials, and ornamental trees along the road and driveway. This year, we have a veggie patch tucked behind the barn and a curving courtyard area behind the house.
We added bird feeders, especially in the winter months, as well as year-round habitat and water sources. It has been a joy to see the bird species steadily increase. We have a pair of eagles who nest at the base of our field and many songbirds who have become a constant presence.
"What I've always found interesting in gardens is looking at what people choose to plant there. What they put in. What they leave out. One small choice and then another, and soon there is a mood, an atmosphere, a series of limitations, a world."

Helen Humphreys, The Lost Garden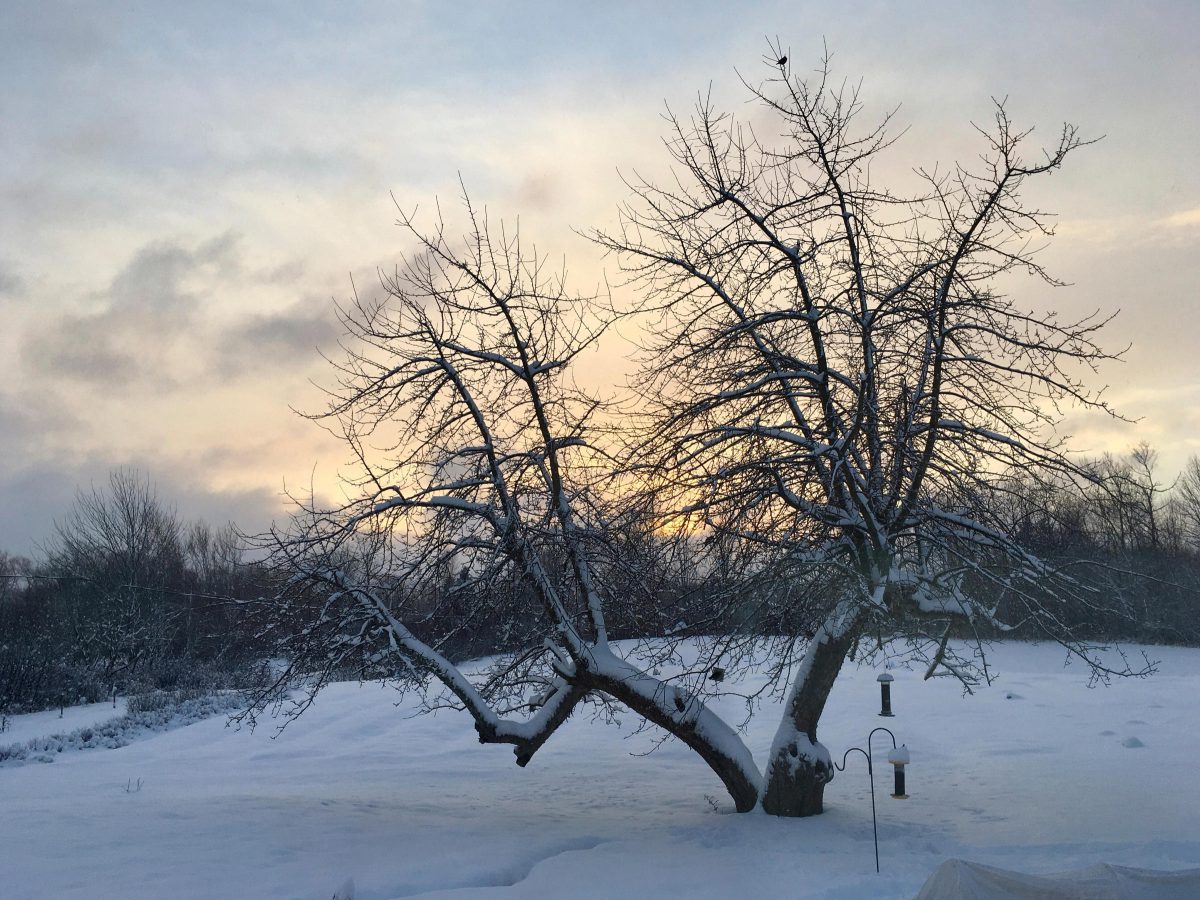 ---
Take a walk in our garden throughout the seasons…