Creating colour from plants combines our deep love for craft with our desire to connect with the land. The dye process requires slowing down, selecting plants, sourcing water, creating a colour bath, waiting while the goods are dyed, and hanging them on a line to dry. It is a whole process that brings with it layers of history, meaning, and connection with the local region.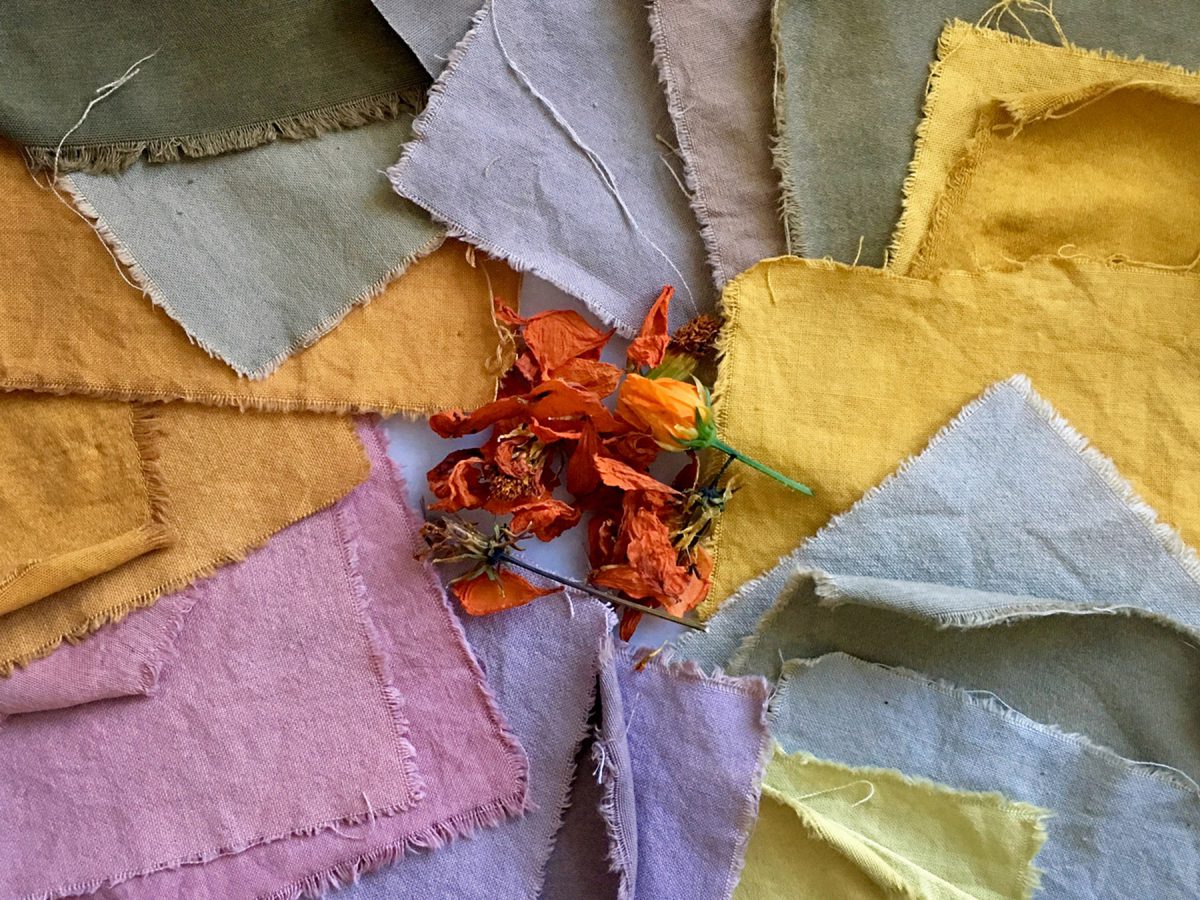 Natural harmonies
From the moment we began creating colour from plants, we fell in love with the beauty of natural colours. There is an astonishing range of colours that can be created from all matter of plants—from your kitchen scraps to foraged weeds, and everything in between. There is a beautiful harmony to natural colours. We are only beginning to discover the interplay of the colours and what will be possible with them.

In choosing hand-dyeing and natural plant dyeing, we are going back to methods that have been forgotten or somewhat lost. We make this choice because they have meaning and spirit, they come with a sense of identity and tradition, and they are tied inextricably to the place and hands that created them, which we find deeply satisfying.

Selecting colours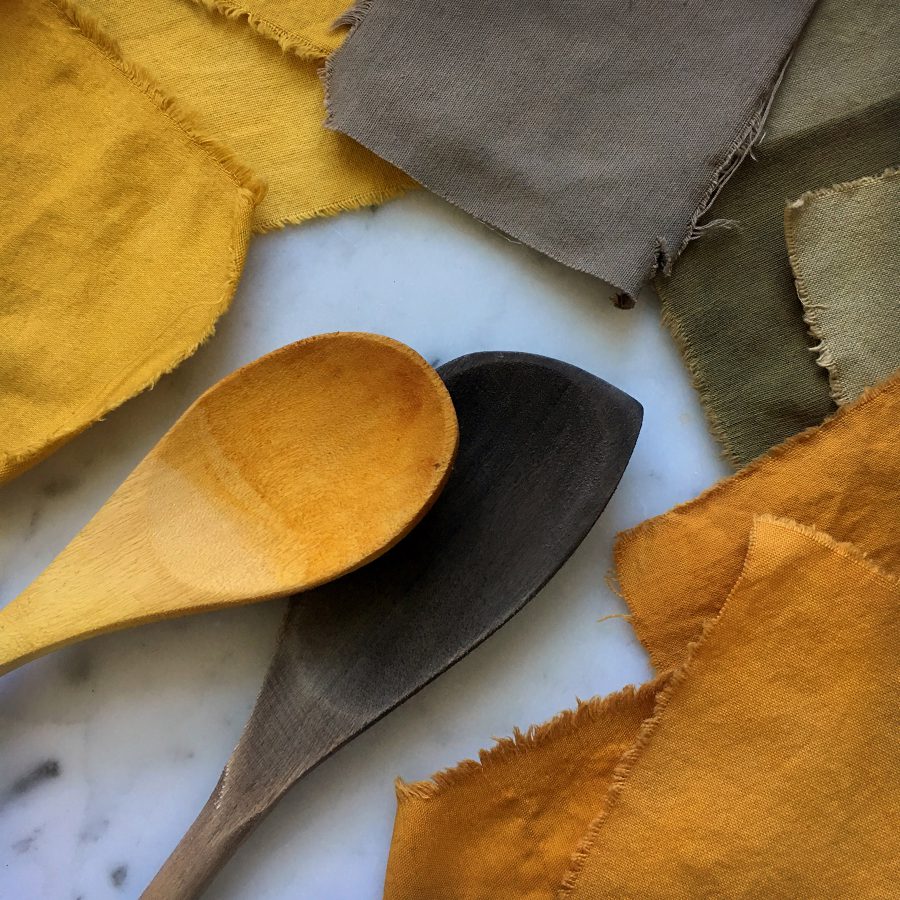 We are in the early stages of exploring the range of colour possibilities. Each craftsperson has their preferences, their values and tastes, and we are no exception. We tend to gravitate toward vibrant colours and soft neutrals. We are especially interested in selecting dye sources which are the most light-fast (the colour lasts well when exposed to sunlight) and colour-fast (the colour last well when washed), and that offer the most versatile range of colours.
Growing & harvesting colour
Much research and thought went into selecting a range of colour crops for our first year. We will be growing some traditional powerhouse colours like indigo (blue), madder (red), Mexican aster (orange), and dyer's camomile (yellow), as well as more nuanced colours such as hollyhock (dark purple) and marigold (rich buttery yellow).

There are some plants that we will forage such as tansy (cool yellow), goldenrod (warm golden yellow), and nettle (pale green). This is either because they are already readily available in the Nova Scotia landscape or because they are ones that are prone to spreading, so we'd prefer not to plant them.
Some dye plants, such as the black walnut tree (rich, earthy brown), ask for many years of patience as we encourage it to grow.
"Life is a sea of vibrant colour. Jump in."


A.D. Posey
Local colour palettes
The colour that comes from plants varies based on the soil and the land in which the plants are grown. The water that is used—whether ocean water, rain water, even well water—is also specific to the place and produces variations in colour.

A key aspect of creating colour from plants is learning about the region in which they are created. It calls for going forth gently, observing the land and what is already growing there. For us, this means getting to know our little patch of land, the valley, and the sea. It also means learning the history of Nova Scotia—what was traditionally used for creating colour, what makes that place unique, and what tells its story.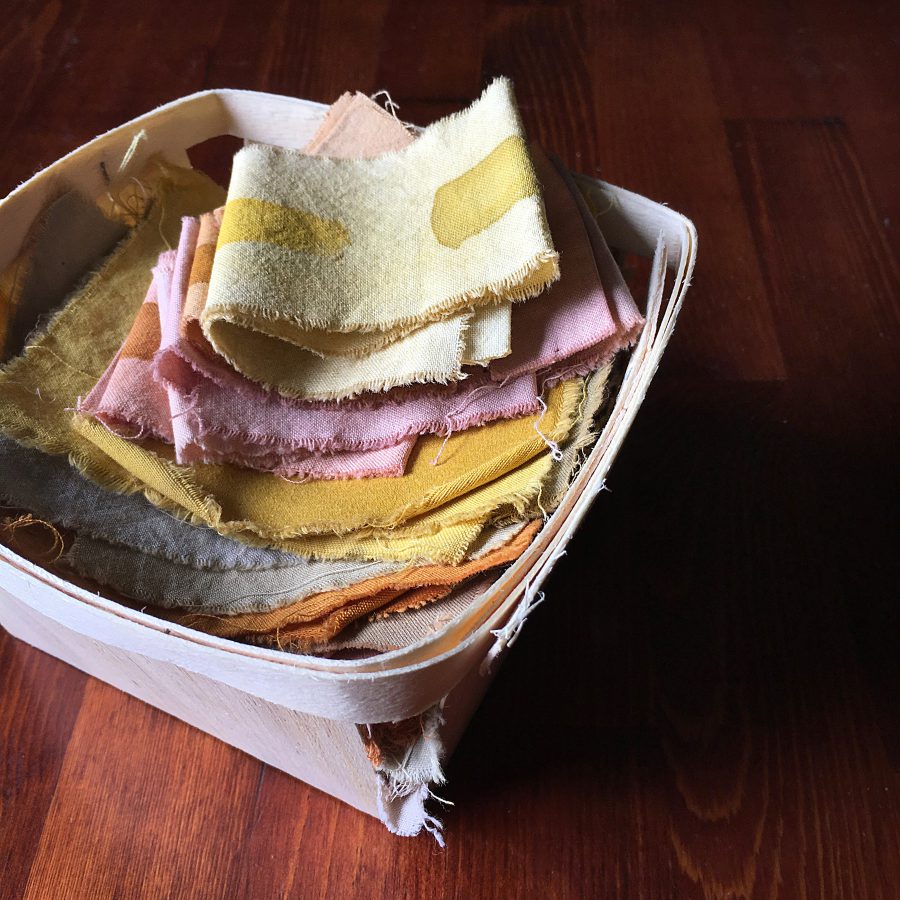 An indoor-outdoor studio
Over time, we will work to convert our barn into a studio space. A natural dye studio is much like a kitchen with steaming pots, measuring and mixing spoons, and jars… only they are filled with colours instead of foods. Natural dyeing requires only simple tools, patience, and attention.

We will also experiment with an outdoor studio space. It's incredible to be creating colours right in the garden where they were grown and gathered! This further makes use of the renewable energies that are right there: the sun, the rain, and garden trimmings.

Full-cycle sustainability
Just as we have a local food movement, natural dyes offer a step toward creating a local textile movement. Whether they be used to sustainably dye yarns, threads, fabrics, knit goods, and hand-crafted artisanal textile, or to overdye existing clothing and linens to give them new life, the opportunities are endless.
One of our favourite things about growing and harvesting plant-based colour is the beautiful cycle that is created. Nature provides the materials and, once used, they all go back into the garden soil where life begins again. Very little waste is created and designing a garden of colours offers endless creative possibilities!
More about our gardening approach >